Food Drinks
A drink with… Doug McIvor, Berry Bros & Rudd – The Spirits Business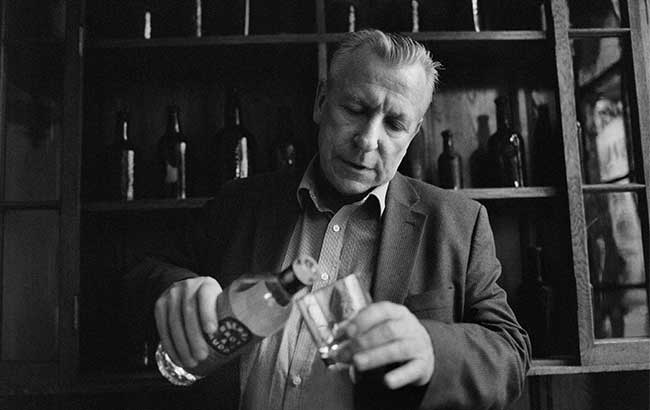 The reserve spirits manager of the famed London drinks merchant Berry Bros & Rudd tells us about the company's plans and how it balances innovation and tradition.
*This feature was originally published in the September 2021 issue of The Spirits Business magazine.
How did you get started in the spirits industry?
I've been in the wine and spirits trade for 35 years. I started when I was 22, and the reason I got into the wine trade initially was just because I thought it was far more interesting than what I was doing at the time, which was basically soft furnishings. But I've always been a people-led person, and this is a people industry. That's the thing that really attracted me in the first place. 
In 1990, I went to work for Milroy's in Greek Street, Soho. When I got there, I was answering an ad for a wine salesman, but I realised that 50% of the business was given over to selling whisky. Being from Scotland, it was a natural curiosity; my father was a great Scotch whisky lover, and I inherited a bit of that. By the time I left Milroy's, over 10 years later, it had gone from 50% wine, 50% whisky and other spirits to pretty much 100% whisky.
What took you to Berry Bros?
Berry Bros & Rudd (BBR) was looking for somebody to spice up their retail spirits offering in St James' Street. Within a few months, I took over spirits buying and grew the selection. Thankfully, we have a very good retail spirits buyer now, so I moved on after that to concentrate on building the company's own selection, whiskies primarily, and a few other bits and pieces.
What do you look for in a BBR Scotch?
It's a simple question we ask ourselves: does it taste good? There are three key words that I always think of. The first is balance, then complexity and texture. It doesn't matter if a spirit's three years old; if it has those three elements, it's going to be good to drink.
Which categories excite you most at the moment?
I'm actually quite excited about opportunities in whisky from all around the world, because there's so many countries producing nowadays. They're coming out with quality products. What worries me a little bit is that Scotland effectively could get left behind if they're not a little bit more open to innovation. And it's kind of a difficult one because Scotland has to protect its heritage. But at the same time, you can find casks that are mature at 18 months old from other countries, which is really down to maturation cycles – you know, how fast they can get something to taste good. So we're open to all of these things.
We've recently started, in the last two or three years, releasing what we call seasonal releases. So spring, summer, autumn, winter, we've got a new offering for the consumer. A large part of that is going to be made up with stocks that we've been sourcing from Australia, the USA and innovative distilleries in other countries that we're partnering up with. We want to do more and more of that over the coming years because it's just so important to the category overall.
Considering BBR's extensive history, how does the company balance tradition and innovation?
We're always conscious of history and tradition because it's the foundation of what we do. But in terms of product, you have to be innovative, you need to know what new generations of consumers are looking at. That's the job, I suppose – to be the link between the world's best wines and spirits and the consumer.
It was really [about] getting the way that we presented [the range] up to speed with the quality and reputation that we had for whatever we did. Most of what we do is transient bottlings – they come and they go. But we didn't really have anything particularly special looking in terms of glass. We wanted to do something that captured the heritage of the company and lived up to the quality of the liquid in the bottle. So that was the sort of main thing it was tied to, to bring the product and the consumer back to [the company's] origins. It's bespoke and it gives us a long-needed point of difference. 
We've done a lot as a relatively small organisation over the past 10 years to bring No.3 to where it is today. But Edrington brings a lot to the brand in terms of their distribution. They're our historical trading partner from Cutty Sark and the Glenrothes brand [BBR established Scotch brand Cutty Sark in 1923 and sold it to Edrington in 2010 in exchange for the Glenrothes brand, which it sold back to Edrington in 2017]. So they understand what we're doing; we understand what they can do for us.
Can you tell us about BBR's plans for its spirits portfolio?
Overall for the Berry Bros & Rudd brand, it's really about diversification. My job is a little bit like being a head gardener, making sure that we're planting something for every season and for future years. I'm trying to see what's going to look best in the garden: if we've got enough fruit, spices, things for the kitchen and flowers to put on the tables. So it's really just adding that diversity, making sure that we've always got stimulating things that are going to keep our consumers coming back.