Entertainment
Abbie Chatfield flooded with messages from Italian men after sparking sexism debate
Former reality star Abbie Chatfield has struck a chord with the male Italian population after she pointed out a "sexist" detail on a menu while holidaying in Europe.
The podcast host, 26, is currently exploring Italy with her boyfriend Konrad Bień-Stephen and was surprised when she was given a menu without prices at a fancy restaurant.
After describing the price-less menus as sexist on her Instagram (because only men receive the menus that have prices listed), Abbie made headlines around the world and was soon flooded with messages from Italian men defending the menu tradition.
READ MORE: Employee's genius revenge plan catches lunch thief red-handed
EXCLUSIVE: Why Sandra Bullock didn't want to end up with Channing Tatum or Brad Pitt in new film
"The Italians continue to be after me, sorry that I wanted to know what price I was paying for meals," Abbie said in a clip on her Instagram.
"A lot of sexist men are in my DMs saying it isn't about gender, but it's just a lady's menu. It's sexist, the whole notion is sexist, get a grip."
She added: "The whole idea comes back to the fact that women can't support themselves. But I can support myself."
The ex-Bachelorette contestant shared screenshots from Italian men who messaged her on social media, with one labelling her "ignorant and selfish".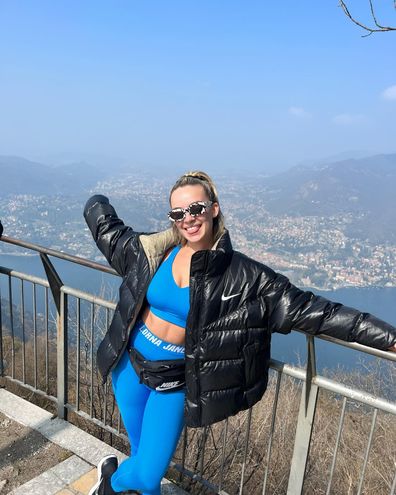 READ MORE: How Alex Fevola confronted Lara Bingle
"You are travelling in Italy, this is not Australia," one message reads "Putting all this on gender or male/female rights is just showing the world how ignorant and selfish you are."
Another cruel message called her "ugly" and "vile" after her posts about the menus reached the Italian press.
"Go back to your sh—y country if you don't like how it is here, stupid clown," another wrote.
Meanwhile, Abbie said she received messages of support from Italian women who claimed they hated the menu tradition too.
READ MORE: The Great Reinvention: 'I quit my job to become a lollipop lady'
"You are absolutely right," one woman wrote. "I feel insulted when I receive a menu without prices out of misplaced 'galantry'."
Abbie spoke about her "sexist" experience at a "boujee" Italian restaurant on TikTok, revealing she was shocked when her menu didn't have the prices listed.
"Only men get a menu with prices? PATRIACRHY," she captioned her now-viral clip.
For a daily dose of 9Honey, subscribe to our newsletter here