Australia
A new campaign has been launched to stop illegal parking in car spaces for people with disabilities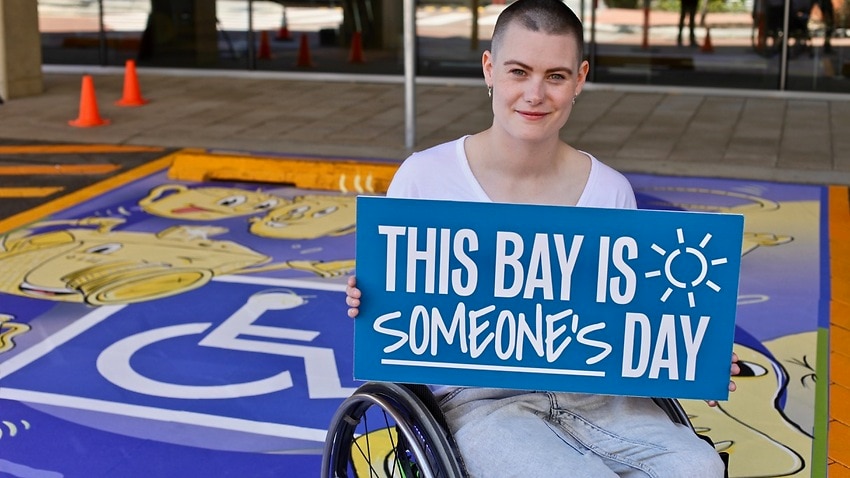 A new campaign in Western Australia is turning parking bays for people with disabilities into works of art, in a bid to stop others using them illegally.
The This Bay is Someone's Day campaign launched in Perth this week, to promote the importance of ACROD parking bays.
For para-athlete, model and disability advocate Robyn Lambird, the illegal use of parking bays can have a significant impact on her daily routine. 
"As a community, we still face those physical and societal barriers, in terms of access and perceptions of disability, that prevent us from having full access to the communities we live in," Ms Lambird told SBS News. 
Ms Lambird, a wheelchair racer who is currently training for the 2021 Tokyo Paralympics, said having a parking bay made things just a little bit easier in the face of so many other barriers. 
"Parking might be only one aspect of that, but when you've got a full day of facing those barriers, having a parking bay that meets your needs just takes the stress off…its one less thing I have to worry about when I'm out and about."
The campaign surveyed 500 ACROD permit holders in Western Australia, with 90 percent saying the reserved spaces were vital to their independence, while 79 per cent had witnessed a car parked in an ACROD bay without a permit.
"The key message we want to share with the wider public is the importance of the ACROD bays for permit holders," NDS campaign lead Jos Franciscus said.
"Parking misuse is real and a significant hurdle that many people with permits have to deal with on a regular basis."
The campaign asked drivers why they had illegally parked in ACROD bays.
Responses included "I needed to grab a coffee at a popular coffee shop that has terrible parking" and "I had to use the ATM and was only going to be two minutes".
Many drivers claimed not to realise the full impact that taking up an ACROD bay can have on permit-holders, even for just a few minutes.
Shopping centre car parks had the highest amount of reported misuse (30 per cent). 
The campaign is being undertaken by National Disability Services, and co-designed with ACROD permit-holders.
It will run for three months in partnership with 25 local governments, five shopping centres, launch partner RAC and with funding from the WA Department of Communities.
Ten WA artists, many of whom have a disability, collaborated with ACROD permit holders to create artworks in ACROD bays which explore what the bays mean to them.
Fremantle based contemporary artist Bruno Booth created an ACROD parking bay artwork in the Perth CBD, inspired by Robyn's day to day routine.
"The brief was to illustrate the sort of things that an ACROD bay allows her to do," he said.
"I just think it's a great campaign that people should get behind".
In addition to the art installations, a social media campaign has been launched around the hashtag #ThisBayIsSomeonesDay, sharing videos which tell the stories of ACROD permit holders.
Currently more than 90,000 West Australians with severe mobility restrictions have an ACROD permit.
Earlier this year, the WA Government increased on-the-spot fines for illegally parking in an ACROD bay from $300 to $500.
But the latest campaign aims to take a different approach.
"We wanted to bring to life the stories behind the ACROD symbol through the medium of art and visually convey what the bays mean for people who genuinely need them," WA State Manager of NDS Julie Waylen said. 
Source link