Australia
First India repatriation flight lands in Darwin after dozens were barred from boarding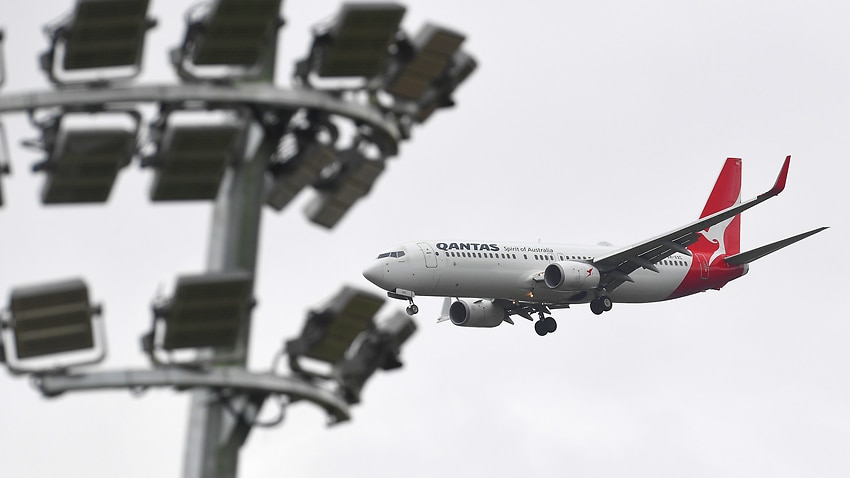 The first Australian repatriation flight from India has landed in Darwin although dozens were barred from returning on the plane after testing positive to COVID-19.
More than 40 people recorded positives and adding close contacts, this will mean more than 70 were stopped from boarding the aircraft, which has a COVID-19-safe capacity of 150 seats.
Exactly how many made it onto QF 112 for the eight-and-a-half hour flight isn't yet known, however, the Department of Foreign Affairs and Trade was working on Friday night to put other passengers on board.
The flight touched down about 9.25am on Saturday at RAAF base Darwin, where the passengers are expected to transfer to three buses for the journey to Howard Springs quarantine facility on the city's outskirts.
Both PCR and rapid antigen tests are a prerequisite for being able to board.
The 26 per cent positive rate is far higher than the 3.5 per cent rate registered in passengers on the March repatriation flights.
The next government-facilitated flight from India is expected into Darwin on 23 May, bringing it to a total of 40 such flights since March 2020.
Melbourne man Sunny had booked on Saturday's flight with his elderly mother, but tested positive for the virus.
He has been trying to contact DFAT without any luck.
"We just want to know what is going on," Sunny told the ABC on Friday.
Sunny and his mother have been stuck in India since last May after facing multiple flight cancellations.
"If I die the Australian government will be responsible."
Australia's High Commissioner to India Barry O'Farrell recognised the disappointment for those who will now miss out on boarding the flights. 
"Clearly that will be disappointing for them and it's disappointing for my team across India," he told SBS News. 
"But they too want to return home safely – they too want to return home to an Australia, which is free of COVID." 
Mr O'Farrell said the High Commission would have to consider what lessons need to be learned from the high-number of reported cases.
"Clearly the flight will come home with not all seats occupied," he said.
"We'll look to see how we might be able to avoid what we've experienced today."
The flight to India carried 1056 ventilators, 60 oxygen concentrators and other essential supplies, adding to a wealth of medical equipment sent last week.
Prime Minister Scott Morrison said the controversial weeks-long pause had worked.
Active cases of COVID-19 in hotel quarantine have dropped by more than 40 per cent over the past few weeks.
In the Northern Territory, where the first repatriation flights from India will land, the number of active cases has fallen from 53 to four.
"The system is ready to respond," Mr Morrison said.
"Had we not undertaken that pause then I think we would have put ourselves in a position where that (repatriations) just would not have been possible, not just for a couple of weeks, but months and months and months.
"But importantly we can now do it and do it safely and we can do it consistently and sustainably and I'm pleased we are going to be able to do that."
There are about 10,000 Australians, permanent residents and their immediate family members seeking to return home from India with around 950 considered to be vulnerable.  
Mr O'Farrell said those now missing out on the first repatriation trip would be in line for other flights.
"When they have received treatment, when they have tested negative to COVID, they will be eligible again as vulnerable citizens for a future flight," he said.
He added that people who had tested positive or were close contacts would be provided consular assistance.
"People need to know where to go for treatment. If they don't have a doctor, if they have come from somewhere where there is a crisis in the hospital system, we'll do what we can to try and assist," he said.
Meanwhile, 2.98 million vaccine doses have been administered so far across Australia, with the daily rate steadily rising.
The rollout is expected to get a massive shot in the arm when GPs start administering jabs to all over-50s from Monday.
With reporting by SBS News.