Australia
NT records first Omicron COVID-19 case as NSW faces possible third infection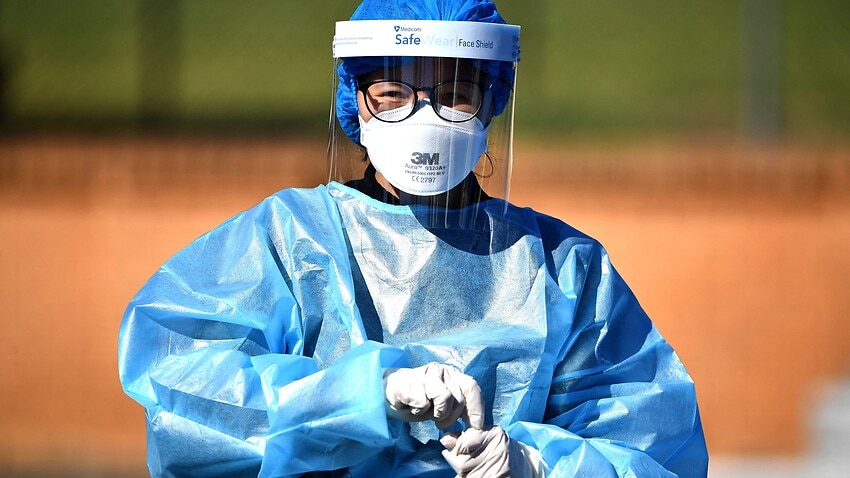 Meanwhile, NSW has recorded its third possible Omicron COVID-19 cases, while in Victoria, health authorities are waiting to see if a visitor to the state was infected with the new variant.
It comes as two more residents from Binjari Aboriginal community were diagnosed with the virus.
"It's not unexpected," NT Health Minister Natasha Fyles said on Monday of the ongoing infections in the community.
A 17-year-old girl who was a household contact of another case was in the Howard Springs facility when she was diagnosed.
A 19-year-old woman became infected while locked down at the community, about 330km south of Darwin.
It brings the current outbreak to 58 cases.
Meanwhile, the first round of tests in the remote community of Lajamanu, 900km south of Darwin, have come back negative.
More test results are due late on Monday.
"Everything is looking positive but it's certainly early days," Ms Fyles said.
The community of about 1000 was put into lockdown on Saturday after the virus was detected in wastewater sampling.
Lajamanu has a low vaccination rate, with only about 35 per cent of residents double-dosed.
Ms Fyles said 20 doses had been administered since Saturday.
Lajamanu remains locked down.
Binjari is in a hard lockdown, with residents only permitted to leave their homes in an emergency or for medical treatment.
Greater Katherine, 320km south of Darwin, is under a lockout.
NSW records possible third Omicron COVID-19 case in returned traveller
Almost 150 people have arrived in NSW from southern African countries where the new Omicron COVID-19 variant is running rampant, with three possible cases among them.
Genomic testing on Sunday confirmed two overseas travellers who arrived in Sydney have been infected with the new coronavirus variant.
Both passengers were asymptomatic when they arrived on Saturday night and are in isolation in the Special Health Accommodation. Both are fully vaccinated.
NSW Premier Dominic Perrottet said a third person possibly has the variant, with 141 people having come to the state from the nine countries of concern over the past 24 hours.
All have been sent to hotel quarantine for 14 days.
Dominic Perrottet urges NSW to learn to live alongside COVID
---
Although he has ordered all international arrivals to quarantine at home for 72 hours, Mr Perrottet insisted the NSW international and state borders would remain open.
"Ultimately we need to open up to the world (and) we need to do so safely," he told reporters on Monday.
"We don't need to have a knee-jerk reaction, we need to have a proportionate and balanced response to the situation that's in front of us."
The three-day quarantine order is on top of a federal government requirement for travellers to enter quarantine for two weeks if they have been in South Africa, Lesotho, Botswana, Zimbabwe, Mozambique, Namibia, Eswatini, Malawi or the Seychelles in the past 14 days.
Mr Perrottet also stressed NSW was better equipped to confront new variants.
"We've got to learn to live alongside the variants of the virus that come our way," he said.
"And the vaccination rate here is one of the highest in the world.
"That is not the case in the southern African nations."
NSW COVID-19 update – Monday 29 November 2021

In the 24-hour reporting period to 8pm last night:

– 94.5% of people aged 16+ have had one dose of a COVID-19 vaccine
– 92.4% of people aged 16+ have had two doses of a COVID-19 vaccine pic.twitter.com/FfhSefJoNJ
The premier has said there are no plans to adjust the state's reopening roadmap, so restrictions will still ease for the unvaccinated on 15 December.
Meanwhile, the state added 150 new infections to its caseload on Monday.
For the fifth consecutive day, no new deaths were reported.
Hospitals are treating 170 patients, five more than the previous day, including 25 people in intensive care.
NSW is 94.5 per cent single-dosed for everyone 16 and over, while 92.4 per cent are fully vaccinated.
Of 12- to 15-year-olds, 81.3 per cent have received one jab and 76.5 per cent both.
Wait to see if Victorian visitor has Omicron
Victorian health authorities have imposed 14-day quarantine orders on all close contacts of a person who visited the state after flying to Australia from a country with the Omicron COVID-19 variant.
The state recorded another 1007 new COVID-19 infections and three deaths on Monday.
In the chief health officer's daily release, the health department confirmed they interviewed a person from NSW who had been to one of nine countries of concern and then visited Victoria.
That person has since returned to NSW and tested positive for COVID-19, with genomic sequencing underway to confirm whether they have the Omicron variant.
The case was "infectious and asymptomatic", as well as fully vaccinated, when they travelled to Victoria.
We thank everyone who got vaccinated and tested yesterday.
Our thoughts are with those in hospital, and the families of people who have lost their lives.
The health department is sending text messages or Service Victoria app alerts to anyone who may have come into contact with the case.
People of lower risk have been instructed to get a test and isolate until they receive a negative result.
"The Department of Health is taking a conservative approach to the designation of this individual's close contacts," the CHO statement said.
"Further contact tracing work is ongoing and is likely to produce more contacts."
It comes after changes to quarantine were brought in over the weekend, requiring all international arrivals to Victoria to isolate at home for 72 hours.
New arrivals who have recently been in Botswana, Eswatini, Lesotho, Malawi, Mozambique, Namibia, South Africa, the Seychelles or Zimbabwe must now quarantine in a hotel for 14 days.
Key questions about Omicron's transmissibility, whether it results in milder or more serious illness and the effectiveness of vaccines are yet to be answered.
Meanwhile, the health department said 19 COVID infections have been linked to recent protests in Melbourne.
Of these cases, one person is currently in hospital, 16 are unvaccinated, two are partially vaccinated, and one is fully vaccinated.
One case attended a social gathering, which led to another outbreak with 10 confirmed COVID-19 cases so far.
Victoria is now managing 11,501 active COVID-19 infections.
There are 300 COVID patients in the state's hospitals, 45 of them are actively infected with the virus in intensive care and 17 requiring ventilation.
Virus testers processed almost 48,397 results on Sunday, while 1813 people were vaccinated against COVID-19 in state-run hubs.
More than 90 per cent of Victorians aged over 12 are fully vaccinated.
This content is no longer supported.